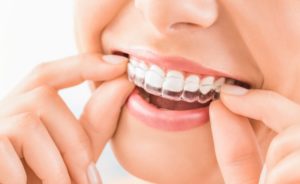 When it comes to correcting orthodontic issues, traditional metal braces aren't your only option anymore! Invisalign clear braces are an ideal choice for patients who are looking for a way to straighten their smile that doesn't interfere with their busy and professional lifestyle. These removable and practically invisible aligners are designed to blend into your daily life, not interrupt it, so you can fix your misaligned teeth and bite without anyone noticing! However, you may be wondering "Will Invisalign affect the way I speak?" The answer may surprise you! Keep reading to find out more.
Invisalign Vs Speech: What to Expect
Invisalign clear aligners are designed to fit snugly over your teeth. They're very thin, so they should be barely perceptible and very comfortable. However, they do cover key parts of your mouth that are used when speaking. When your tongue hits these distinct places to make specific sounds, the presence of the aligners will change the resulting words. Oftentimes, Invisalign patients will initially experience changes in speech patters or the development of a lisp. How much Invisalign impacts a person's speech varies from case to case: some won't notice any changes at all, while others will need to go through a short adjustment period. Thankfully, there are plenty of ways to speed this process up!
How to Practice Talking with Invisalign
If your Invisalign aligners have changed your speaking pattern, there's no need to worry that this will continue throughout your treatment. In most cases, adjusting to speaking with Invisalign only takes a few weeks at most. To speed this process up, practice! The more you speak with your aligners in place, the faster your mouth and tongue will adjust to their presence. Try singing to your favorite song, reading books or magazines aloud, or having a conversation with your pet or non-judgmental friend. You could even try practicing difficult words, such as "sixty" and "Mississippi!"
When to Speak to Your Dentist
It shouldn't take very long for you to adjust to speaking with your aligners. If it feels like you're not making progress and you still find it difficult to talk with your aligners in after several weeks to a month, don't hesitate to give your dentist a call! This could be due simply to an ill-fitting aligner that needs to be readjusted. They'll take a look at your aligners and your mouth. If needed, they'll be able to give you a new aligner that fits better and impacts your speech less.
The results from an Invisalign treatment have the potential to last a lifetime, so a short adjustment period in your speaking is well-worth it. With practice and guidance from your dentist, you should be speaking clearly with Invisalign in no time!
About the Practice
Dr. Steven Crovatto and Dr. Megan Edwards of Crovatto & Edwards Family Dentistry are proud to serve the families of Orange Park and the surrounding communities. They strive to help each of their patients achieve the happy, healthy smile they deserve no matter what issues they're facing. This even includes mild to moderate orthodontic issues, which they can address with custom Invisalign treatments. To learn more, they can be contacted online or at (904) 272-0800.