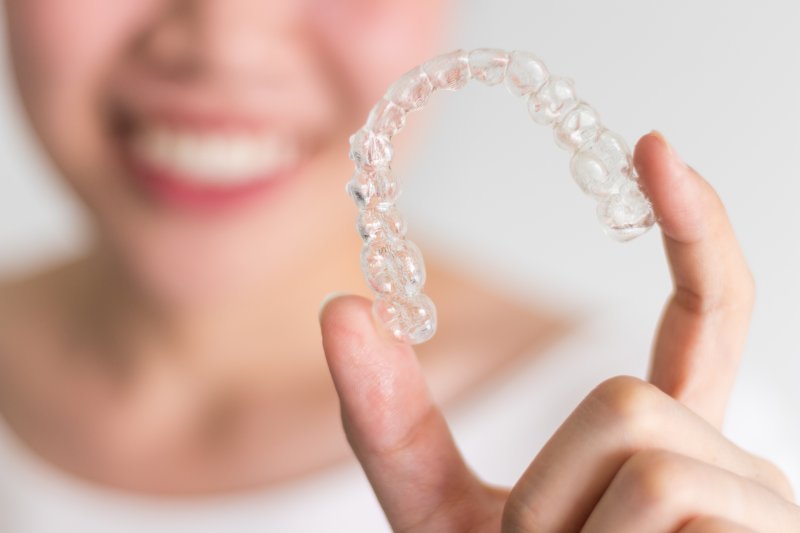 For some people, choosing between Invisalign and traditional metal braces is a no-brainer. After all, the sleek clear aligners can straighten teeth in the most discreet way possible. Who wouldn't choose that over metal wires and brackets? While Invisalign is a much more comfortable and subtle option, there are a few things you should know before starting treatment. Read along as we discuss what you can expect and why the process might not be as seamless as you anticipate.
It's a Major Time Commitment
Invisalign's clear aligners use constant, gentle pressure to shift teeth into a more desirable position. For treatment to be effective, you must wear the trays for at least 20 to 22 hours each day. If you fail to meet the mandatory wear time, you risk ruining your treatment, and that could end up costing you more time and money down the line.
There Will Be Changes in Your Speech
It may surprise you to learn that even with the clear aligners, you might develop a lisp or other speech impediment. But don't worry – any changes in your speech typically go away once your mouth adapts to the treatment. While your first instinct might be to speak as little as possible to hide any changes, talking is the key to correcting any speech alterations!
More Attachments Might Be Necessary
Depending on the complexity of your case, you might receive more attachments than anticipated. These include enamel-colored ridges that adhere to your teeth to move them more effectively. Although they're essentially invisible on their own, they become noticeable when wearing your aligners. With these attachments, you will look like you're wearing clear braces.
You Might Experience Discomfort
Since the aligners use constant pressure to promote movement, you might experience some degree of discomfort each time you advance to a new set of trays. The feeling might be uncomfortable, but most patients prefer it over having metal wires and brackets in their mouths that irritate the tissues.
They Will Need to Be Removed Before Eating or Drinking
Most patients are attracted to Invisalign because there are no dietary restrictions during treatment. All you have to do is remove the clear aligners before eating or drinking anything that's not water. However, keep in mind that you'll still have to meet the mandatory wear time of 20 to 22 hours each day – that means you will have to fit all your meals and snacks into just two to four hours!
You Will Be Brushing Constantly
Every time you remove the aligners, you have to brush and floss your teeth before slipping them back into your mouth. Otherwise, food particles and other debris can get stuck in between your teeth and the trays, leading to bad breath and even cavities. Make sure you always have an oral hygiene kit on hand so you can clean your teeth after eating.
You Will Need to Wear a Retainer After Completing Treatment
After completing Invisalign treatment, you must wear an orthodontic retainer to preserve your results. For the first few months, you might have to wear it all day, every day. Then, you should be okay to wear it only at night. Since each patient is different, be sure to ask your dentist what's recommended for your unique case.
Now that you know what to expect during Invisalign, you can make a confident and well-informed decision to move forward with treatment. Contact your dentist to start your journey – a straighter smile is only a call away!
About the Practice
At Crovatto & Edwards Family Dentistry, we go above and beyond to provide comfortable, personalized, and high-quality dental care that exceeds all expectations. If you want a straighter smile, we offer Invisalign treatment to help you achieve your desired results as discreetly and comfortably as possible. Visit our website or call (904) 272-0800 to schedule a consultation and determine if it's the best solution for you.