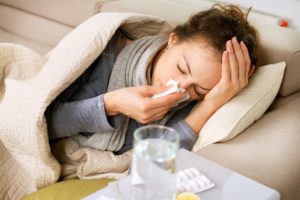 Nothing is worse than feeling under the weather. With cold and flu season here, you are bound to catch the sniffles or deal with a relentless cough at some point. To get relief, you turn to easy remedies, like over-the-counter cold medicine. While they may help to alleviate your symptoms, you could be unknowingly placing the health of your teeth and gums at risk. You can manage your discomfort while keeping your smile healthy using a few flu season tips from your dentist.

Combat Dry Mouth
Decongestants help to keep your runny nose controlled. As they dry your nasal passages, they can also cause the same results in your mouth. Dry mouth is a common side effect of the medications. Bacteria growth is enhanced as when your saliva flow decreases. This increases your risk of tooth decay and gum disease. You can help to cleanse your mouth by drinking plenty of water. You can also encourage saliva production by sucking on sugar-free cough drops.
Prevent Tooth Decay
Cough drops and sore throat lozenges can help to relieve irritation. Although they are helpful, they often contain ingredients that can erode your enamel, like sugar. It is best to choose sugar-free options to prevent cavities.
Avoid Liquid Medicines
Many cold and flu medicines come in liquid form, which makes them easy to take; however, they often contain alcohol. This decreases your saliva production, which can lead to dry mouth while also making it difficult for the medications to be cleansed from your teeth. As an alternative, use those that come in pill or gel-cap form to prevent any damage to your teeth.
Keep Your Teeth Bright
Drinking a hot cup of tea or coffee is a great way to soothe throat irritation. Unfortunately, they are darkly pigmented, which can lead to tooth discoloration. It is best to drink the hot beverages through a straw to limit their contact with your teeth. Brush your teeth as soon as you are finished with your cup or rinse your mouth with water.
Keep Your Enamel Strong
Vitamin C boosts your immune system, so you may want to grab a glass of orange juice. Not only will it help you battle the illness, but if it is fortified with calcium, it can help strengthen your enamel; however, you must be careful when drinking. Orange juice is acidic, which can erode your enamel. If you drink it, be sure to have it at mealtime to prevent it from sitting on your teeth.
Maintain a Healthy Smile
While you recover from a cold or flu, do not place the health of your smile at risk. By making simple changes, you will be back to yourself in no time while protecting your oral health.
About Dr. Megan Edwards
Dr. Megan Edwards is a trusted dentist in the community who strives to help her patients look and feel their best. Besides your oral health, she works to promote your well-being through your oral health. If you need a caring dentist, contact our office today to schedule an appointment.