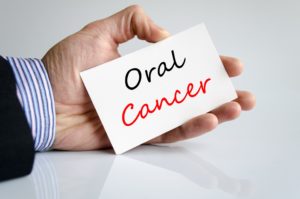 The American Dental Association recommends you visit your dentist twice a year for preventive care. You know your routine visits are vital for healthy teeth and gums, but did you know there is another important reason to keep your appointments? Semi-annual care gives you the opportunity to have an oral cancer screening. With over 51,000 adults diagnosed with a form of the disease each year, the yearly exams play a valuable role in early detection.

Importance of Early Detection
Oral cancer is classified as those that affect the head and neck, but brain cancer is in a separate category. On average, the 5-year survival rate for those diagnosed with oral cancer is less about 65%. The survival rate has increased over the last several years; however, it remains lower than other cancers due to late detection. The availability of regular screenings is not widely discussed. As a result, the cancer is often not found until it has metastasized to other areas of the body or reached advanced stages.
It is estimated, dentists can help to detect as much as 80% of new cases through routine screenings, which are available at preventive dental visits. Now you have another reason not to skip your next appointment for a cleaning and checkup.
Regular Oral Cancer Screenings
It is best to have an oral cancer screening at least once a year. Your dentist can easily perform the examination during your dental checkup. They take the time to look for any indicators of cancerous or precancerous cells, such as:
Crust, lumps, or rough patches
White or red spots
Sores that bleed easily or will not heal
Sore throat
Feeling like something is caught in the throat
Numbness
Difficulty moving the tongue or jaw
Numbness or tenderness to the oral tissues
If a suspicious area is found, it does not necessarily mean oral cancer is present. Your dentist will take a biopsy of the tissue to have it tested. Based on the results, a customized treatment plan is created.
Don't Skip Your Next Appointment
Although you may not think a checkup is important until after a problem has developed, this could not be further from the truth. By having your dentist monitor your oral health, you not only keep your teeth and gums healthy, but you also increase the likeliness cancer is found early.
If you have been putting your preventive visit on hold, do not wait. Schedule a cleaning, checkup, and oral cancer screening today.
About Dr. Steven Crovatto
Dr. Steven Crovatto has provided high-quality dentistry in the community since 1983. With a focus on prevention, he strives to offer the services you need to ensure your teeth serve you for a lifetime. Part of his comprehensive approach also involves regular oral cancer screenings. If it is time for your next cleaning and checkup or oral cancer exam, contact our office today to schedule an appointment.